The other day I had the opportunity to spend some time in the mountains east of SLC up Little Cottonwood Canyon. The company I work for, Petzl, places a high priority in education and making sure that we help educate those using our products. What better way to do that than to get out and use the stuff ourselves. For this day the mountains were my office! We climbed the "Great White Icicle", this isn't a really difficult route but it sure was fun!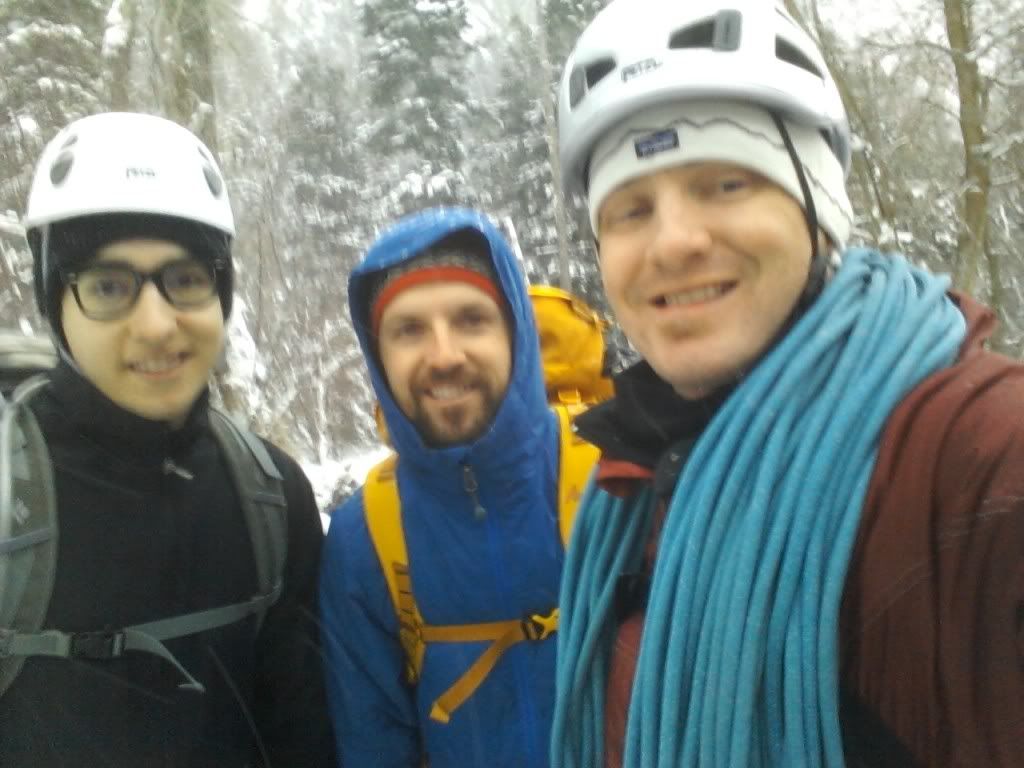 Brandon, Tom, and I
I was so excited to get back out on a rope, Amy was a little apprehensive about the whole thing because I hadn't been climbing really, since my first surgery in 2009, but I was counting down the days until we were to go. When we got up the Canyon we hiked down to the river bed and crossed the low river hopping across rocks, I wasn't so graceful and my foot slipped off of one of the last rocks dipping my foot into the cold water. Thank goodness for Tom's waterproof climbing boots he let me borrow! The funny part was Tom (our sport division manager) had just finished telling us to be careful not to slip in, oh well. As we made our way up the other side of the bank and further up the slope to the base of the ice we saw hoof prints in the snow, we weren't quite sure if they were moose or deer tracks because they looked a little disturbed in the snow, regardless it was neat to see. It was really cool to be up in the trees with the snow all around.
Brandon on belay
Brandon and Tom
We made it up to the base of the climb and wow, I realized how out of shape I really was. I had to take a break or two on the way up and made it to the start of the climb panting heavily. After a short break and some hot chocolate from my thermos, we proceeded to gear up. Crampons, ice tools, ropes, carabiners, ice screws, cams, helmets and gloves, odds and ends, and we were ready to start climbing. Tom began by giving us some basic heads up on techniques and pointers to make the climb more enjoyable. Brandon (our International accounts specialist) started belaying Tom as I stood back and minded the coiled rope.
Tom took off like he was climbing stairs, He is really good at what he does and he is also a great teacher and friend. He explained a lot about using the different ice tools that we took with us and how each one swings a little differently. While down low he demonstrated the different techniques of placing ice screws and which kind of ice to look for and which kind to avoid. Once he got up to the top of the first pitch of the climb, he prepared an anchor to belay us from the top. Brandon and I got ready and once we were on belay we each made our way up the ice. I felt like a little kid! I was having so much fun! I was with great people, in a beautiful place doing what I love, and getting paid to do it, could it get any better?!?!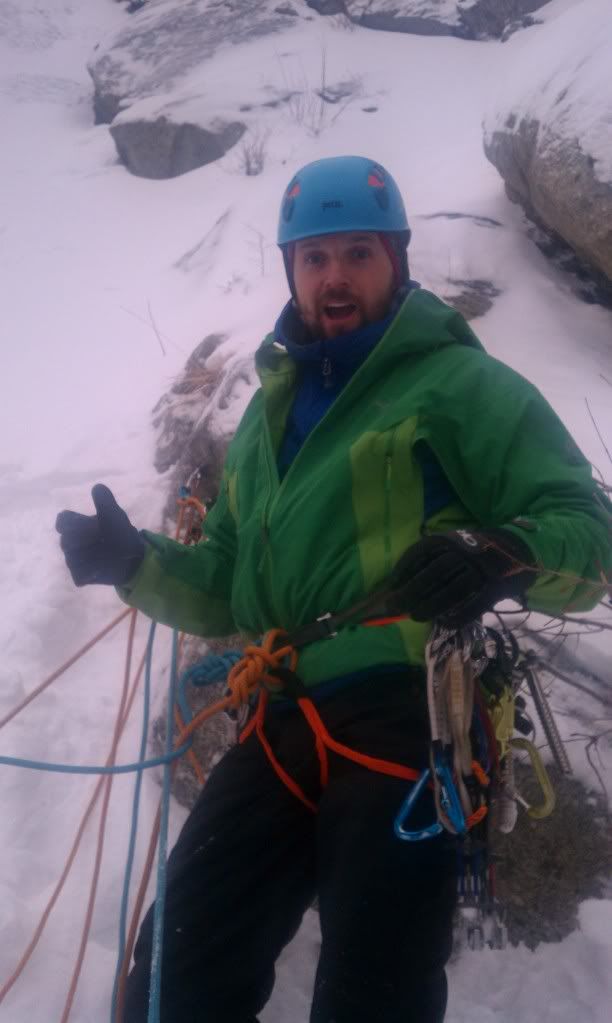 Tom in mid sentence,
He is always that excited
Tom kicking away on pitch one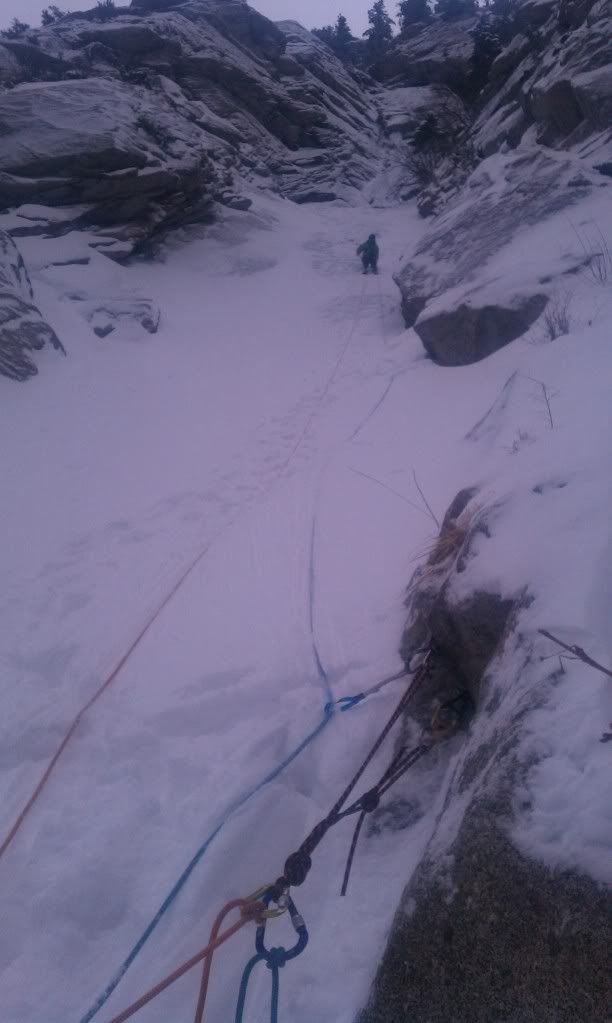 Tom up the second pitch
After climbing the two pitches to about mid way up we were running out of time and decided to head back down, by this time the wind was blowing pretty hard up the gully, the snow was swirling like crazy and it was beautiful, I wish I would have thought about getting a picture of it.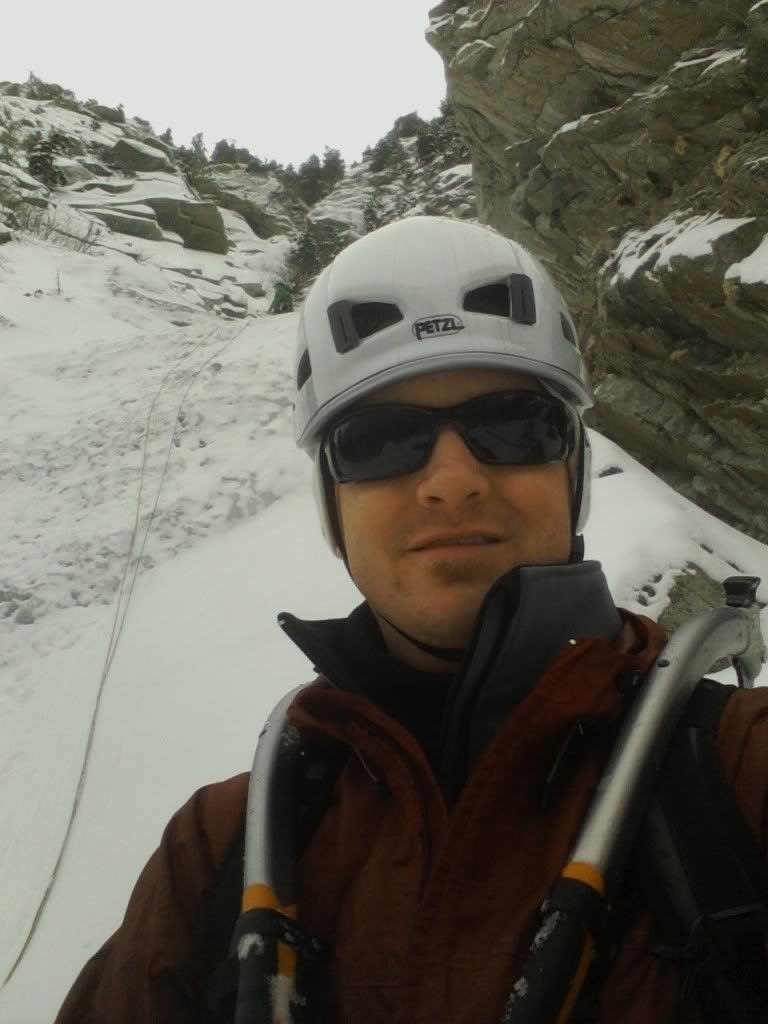 We prepared to rappel down to the top of the first pitch, we double checked each others gear and I set off over the edge of the rock. Crampons on ice are great but on rock they tend to slip around a lot, they are like bowling shoes on ice. Once I got used to the footing, it was just like any rappel I had done rock climbing. I had gotten cold fingers a few times during the climb but I didn't really notice it much. Brandon came down after me, he reached the top of the first pitch and we started chatting, waiting for Tom.
Over the last few months I have dealt with some pretty discomforting pain due to my tumor. I have been taking the least amount of pain meds to handle it. I really don't like feeling drowsy or loopy. The pain is noticeable throughout the day, bearable but it is still very much there.
As I was talking to Brandon I stopped and realized, I was not hurting! I couldn't believe it. I shrugged my shoulders and wiggled my back around I moved and contorted and still there was no pain. I didn't understand it. I came to the conclusion that it was due to the euphoria of being back up in the Mountains and the Natural high that I was experiencing. It was a good feeling.
This was "Mountain Therapy"